How to Play Bingo
What is Bingo?
Bingo is a game of chance, where you fill Bingo cards with random numbers, written on balls, appearing from the rotating drum. In online bingo, the numbers are generated by an RNG system. There are many variations of the game, but usually the point is to collect a row full of numbers, which is a "Bingo!"
It's also the most exciting part of the game, you know, to yell "BINGO," and watch as the other not-so-lucky players are boiling with anger. You can even do it just for kicks, without having a full row, but prepare to really feel the wrath of other players. After that, you better say something like "just practicing" or "false alarm," and watch how they relax and stop hating you. (Actually that's against the rules, so we advise not to do that.)
There's not too much personnel required to run a bingo hall. Usually there is a Caller - the one who calls numbers loudly, as the balls pop out of the drum. In large Bingo halls, he might need a few assistants and a microphone.
The game is usually played in large groups and has lots of similarities with games like Lotto and Keno, which also use cards with numbers and a RNG simulator (rotating drum, a sack with wood chips or lil' barrels, etc.).
Bingo History
All sources coincide with the fact that the modern Bingo game was invented by Edwin S. Lowe, a salesman from New York. In his journeys, he once saw a game at a carnival in Georgia, in 1929. It was called "Beano," because players marked the numbers on their cards with beans, instead of regular chips. When a player assembled a row of number he screamed "Bean go!", which gave Edwin a hint on his future game's name.
He learned the game, made different playing cards, created new rules, and showed his new game to his friends and family. In a year, he managed to show his game to other businessmen, and in 1930, bingo halls started to pop up all over the US.
Currently, the game of Bingo is, in different forms, allowed in 48 states and almost all Native American reservations, which makes it one of the most popular games in America. As for the other countries, it is also widely played in the UK, Canada, France, Spain, Finland, and Norway.
As for ancient history, Bingo originates from the game of lotto. It was called "Lo Gioco del Lotto d'Italia" and was first played in 1530, four hundred years before its rebirth in the US. The rules were pretty much the same: the player who first covered the whole row with numbers won. At the end of the 18th century, the game appeared in France with similar rules but with different playing cards.
Currently, Bingo is flourishing, mostly because of the new way of playing it. We mean online casinos, of course. Now you don't have to go anywhere, don't need to spend your time sitting in a bingo hall, as you can play on the go in one of the many online mobile casinos.
Types of Bingo
There are two main types of bingo and lots of less popular ones. They all differ from each other by the form of cards, the number of blank fields, numbers on each card, and the number of balls. Some of them are played in particular countries, but thanks to the rapid growth of the online gaming industry, soon they all will most likely be equally popular.
90-ball Bingo
This type of Bingo is sometimes called British Bingo, or European Bingo. It is played with 90 balls (what a surprise, huh?), on cards with three rows, with nine squares in each. Each row has five numbers; the first column can have numbers from 1 to 10, the second - from 11 to 20, third - from 21 to 30 and so on. Each card has 15 random numbers from 1 to 90. The player who fills the first row gets 15% of the bank, two rows pay 30%, and the whole card pays 55%.
75-ball Bingo
This is American Bingo, and it's played on smaller cards, with five squares in horizontal and vertical rows. The cards have the word "bingo" written under each column and each ball has a letter on it. The central square is blank and it can be used to fill one of the four rows which cross it (one horizontal, one vertical and two diagonal ones). It's actually a "wild", or an auto-filled square. All other squares are filled with numbers.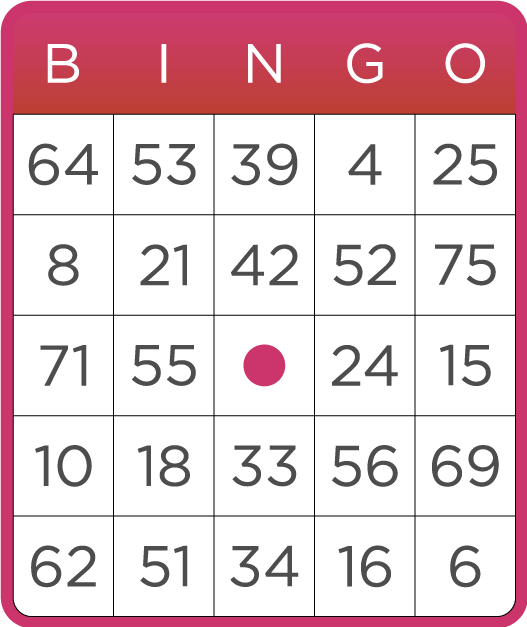 In this version of the game, the rules can differ. You might need to fill a row, or form some other shape on the card (a bell, a plain, fill all corners, fill one corner with four numbers, etc.) Almost all numbers and letters can be formed on a bingo card and most of them are used in different bingo halls around the world.
Bingo Etiquette
In the most popular games of chance, there are some rules that you shouldn't violate, and they might look a bit silly for those who are new to the game. For instance, you can't say "seven" while you're at the Craps table, etc. The only similar rule for Bingo is not to be an asshole.
Don't yell too loud, don't express your frustration in a way that will disturb the other players, don't abuse the Caller, don't repeat each number after the Caller, etc. Let's say: behave yourself while you're in a Bingo hall. Don't get mad and be nice to people.
Why so popular?
Bingo has one very significant distinction from the other games of chance: it's historically associated with charity. You can often see Bingo played in churches to raise funds for the homeless, or to build a new playground. It's a bit controversial to play a game of chance right in a church - but if the results are beneficial for the community, it's great. Bingo is played at all kinds of fairs and festivals, so you can get familiar with it, even without visiting specialized bingo halls.
The game itself is very simple to play, so that even a child can play it. It's widely used for educational purposes: there might be different words instead of numbers, the words of a foreign language, for example.
It's also very helpful for seniors, as it involves a lot of attention, and you have to remember numbers. Some kind of mind-exercise, if you wish, and it really helps elderly people socialize and keep up with their friends.
Bingo Strategies
Okay, this is the section where people expect to see some calculations, some solid numbers, sustained by solid research. We have one for you: 10 out of 20 websites that we have visited, before starting actual research, had a section called "Bingo Strategies," "Advanced Bingo Strategies," or even "How to Win in Bingo."
They suggested some strategies there, or what they considered to be strategies. This section will be a bit different: we'll explain to you why exactly such systems or strategies simply can't be real.
First of all, let's figure out what is a strategy and what isn't. To know the rules of the game, and to pay attention to it while you play, is not a strategy. To be able to count up to five is also not a strategy. Neither is being able to remember a few dozen winning combinations, usually shaped as letters, umbrellas, checkmarks, arrows, etc,
On some websites you might even see a hint, saying that the smaller shapes are easier to form than the big ones. What a surprise, huh?
Strategy is the way of playing that will bring you an advantage over the house. Don't forget that there is no data on the house edge of bingo halls. Some owners report about 3-5% house edge, some about 10-15%, and some about 20-40%. The only sure thing that we know is that online casinos with Bingo games offer at least four times lower wagering requirements for bingo bonuses than for slots bonuses.
It means that the strategy should be great to beat such a high house edge. It's a pity that there are no strategies for bingo, and you only can follow the basic advice that we give to all gamblers: play responsibly, don't lose control, stay within your limits, and don't take Bingo too seriously.
Bingo Glossary
In Bingo, the whole game revolves around yelling, and you might often hear that players say not only "Bingo," but some other words. Here are the most common terms in Bingo. Don't forget that the game is very social and often played in communities, so there might be other local terms we don't know about.
Closing Thoughts
Bingo is a very exciting and very easy game to play with your friends and family. As a game of chance, its high house edge is too high to be compared to games like Blackjack, Roulette, Baccarat, or Craps.
On the other hand, it's very simple and entirely random, so it doesn't require any skills except for some attention and basic memory. The game caters to women and seniors, but there are no reasons for that whatsoever, as people of all ages and both sexes play Bingo. If you want to try Bingo - we bet that you'll have a great time and we hope that our article was helpful for you.
Updated: 02 May 2018